Junk Removal in Riviera Beach
All Out Junk Removal makes junk removal in Riviera Beach easy! Take a breather—we'll do all the hard work for you!
RIVIERA BEACH JUNK HAULING
All Out Junk Removal is ready to get to work when you need junk removal in Riviera Beach, FL! We think it's a beautiful part of Palm Beach County, and we'll do what it takes to keep it clean. This includes, of course, full-service junk removal!
All you have to do is let us know what needs to go. Then, we'll not only haul it off your property, but we'll take it to a nearby disposal site as well. You won't have to do any of the work, so feel free to just relax for a while!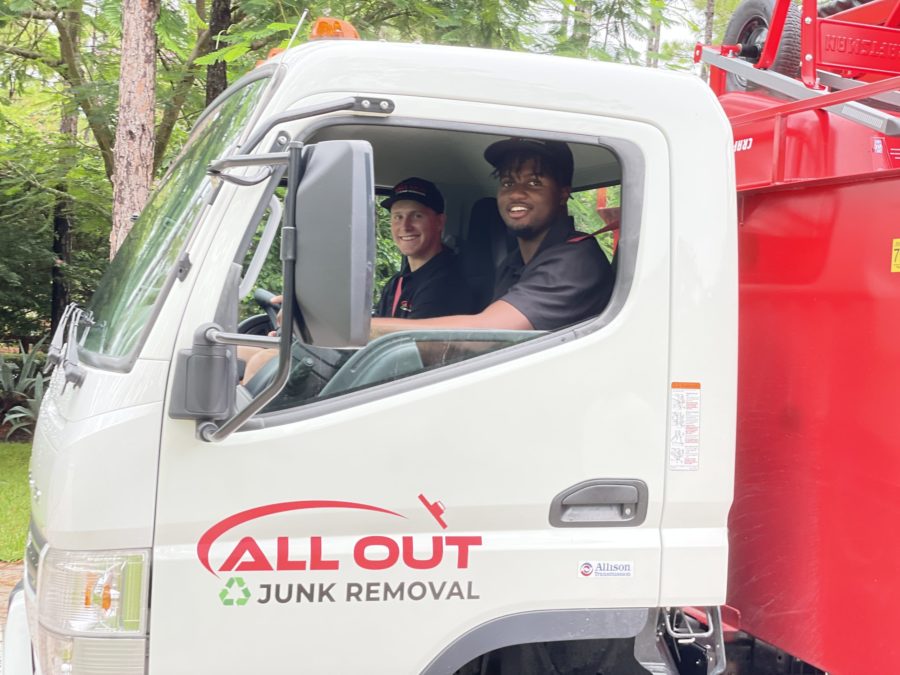 About Junk Removal in Riviera Beach
Save your energy—you've got better things to do than DIY junk removal. Our full-service crew will happily take this work on for you instead.
We'll bring the truck, so don't worry about finding a rental. Our trucks are equivalent to seven pickup truck loads, so we can haul a lot!
Our crew has all the training and all the muscle they need to get your junk going! Even heavy items won't slow us down, so you've got nothing to worry about.
Simply let us know what needs to go, and we'll work quickly to get it out your door and onto our truck. We'll be done in the blink of an eye.
Finally, we'll double-check to ensure that we removed all the junk that needed to go. We'll also sweep up behind ourselves as a thank-you.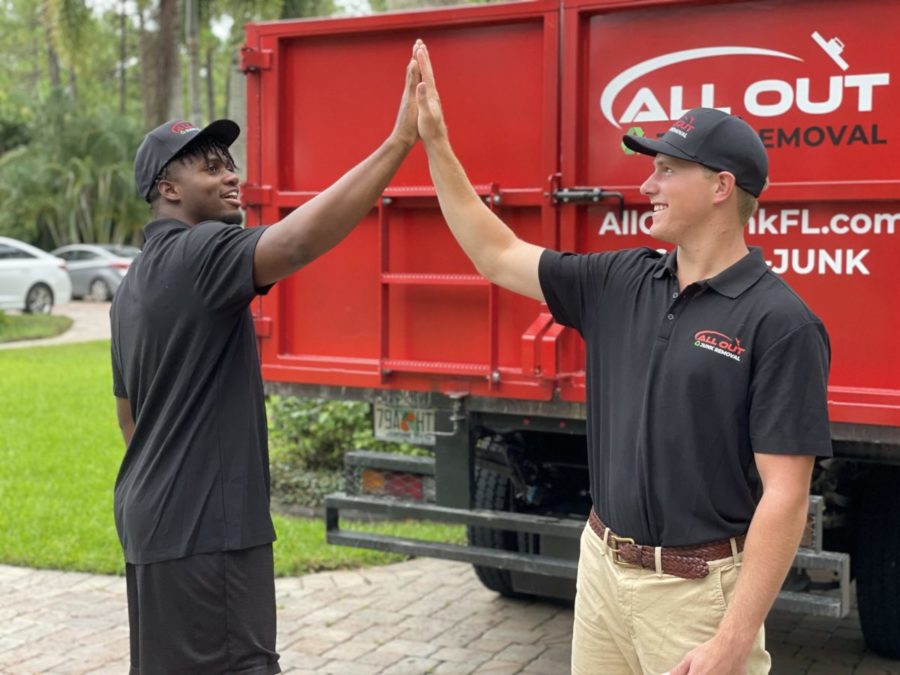 Our Pricing
You will appreciate our pricing system because it earns you a sweet deal no matter how large your job is.
At the beginning of your appointment, we will assess all the junk you need to get rid of and determine its volume.
This volume will be the basis for what you pay. Good news—what this means is that jobs of any size are priced fairly.
We will never saddle you with hidden fees or surcharges! Approve our upfront quote, and the price is permanent.
Our Junk Removal in Riviera Beach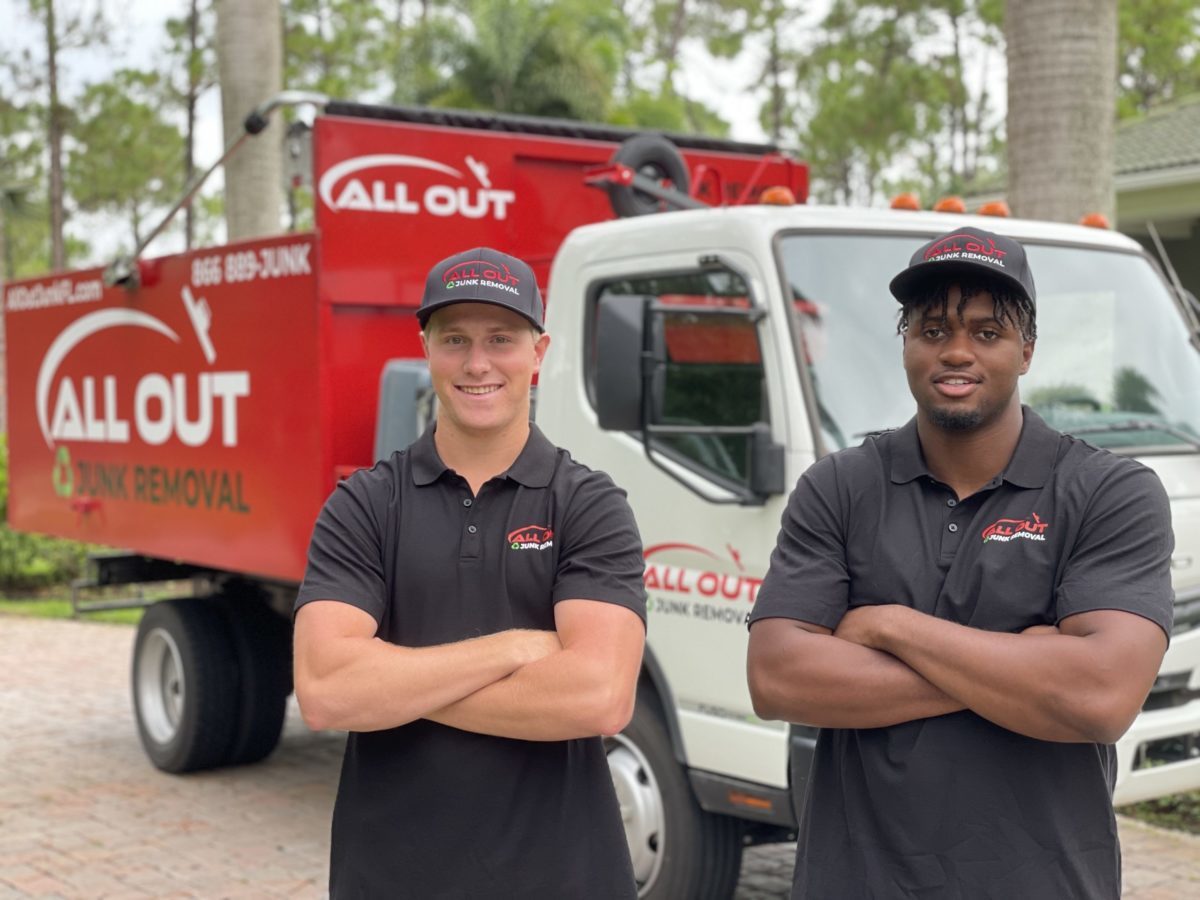 Items We Accept
Books and Magazines
Clothing and Toys
Kitchenware
Old Decorations
Gardening Tools
Bagged Trash
Carpets and Rugs
Cardboard Boxes
Barbecue Grills
How Riviera Beach Junk Removal Works UPFRONT QUOTE
At the beginning of your appointment, we'll review all the things you want us to take, then pass you an upfront quote for your approval. FINISHING UP
After you approve our quote, we'll remove all the junk from your property, accept your payment, then head out to dispose of the junk.
REVIEWS
5.0 out of 67 reviews
All Out Junk Removal made the process of getting rid of items with a tight timeline stream less. They were able to accommodate my schedule and pick up the items on short notice. Very professional, courteous and friendly. Would highly recommend them.

Mike Ferrari and crew were excellent. Organized and professional. They understood the situation and worked with us making a difficult situation go smoothly.

They called/texted to see if they could come earlier because they already finished their first job, and I agreed, so they showed up earlier than expected and we're pleasant and professional and efficient in their removal of my used piano. They offered to take something else if I needed something else taken away. I will definitely use them again for any hauling service. Highly recommend.

Wow! Just wow… This company is top notch in my book… Not only were they able to accommodate me and come out the next day but they have to be overall the kindest most respectful group of employees I have ever met! From the owner Mike who I talked to on the phone ….who was absolutely wonderful …to big Myke and Rob Who were polite, professional and just overall kind human beings…. My mother just had a stroke and I am preparing the house for her to come home.. it was just so nice to meet such wonderful people… I am filled with gratitude… I would not hesitate to hire them!!!

They were easy to work with, professional and the communication was great. I would definitely recommend them!

Excellent experience. Top of the line service, price and timeliness. I had several extremely heavy and bulky outdoor and indoor furniture items that I needed removed that wouldn't fit out of both my interior doors and, given I live on a zero lot line property, the side of my house. All Out Junk came in, no questions asked and took care of the job without a hitch. Their pricing was reasonable, they came out very quickly and they were a pleasure to deal with. Highly recommend.